Business and Money Guide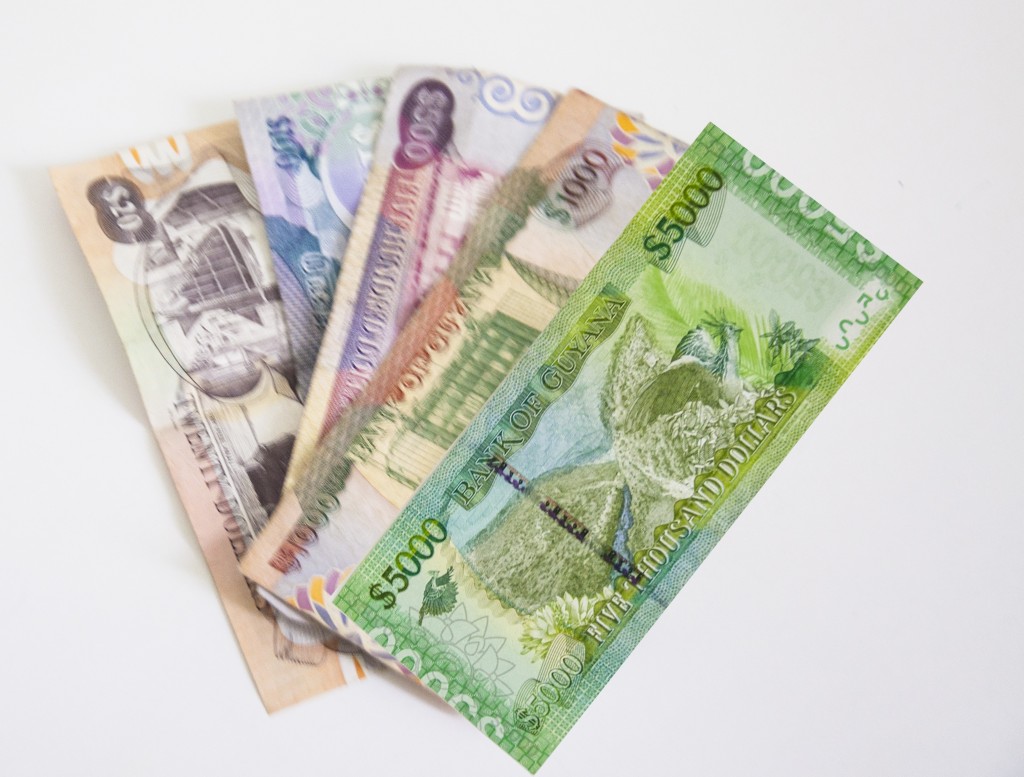 CAMBIOS – These are licensed currency exchange houses. Most cambios are open from 08:00hrs to 17:00hrs, and onSaturdays from 08:00hrs to 12:00hrs, sometimes to 14:00hrs. Keep your Cambio receipts; you will need to produce them in order to change Guyanese dollars on departure.
ECONOMY The agricultural sector accounts for half the national GDP, producing sugar and rice for export, with extensive timber operations and a range of other products, from coffee to fish and fruits, and fresh vegetables well –respected brands of rum. Gold, bauxite and diamonds are mined.
CURRENCY- The Guyana dollar is the only legal tender accepted in this country. It is a floating currency and the value fluctuates in accordance with the changes in the value of the US$. Visitors may exchange their currencies at banks, cambios and most hotels. The rate of the dollar fluctuates and the exchange is approximately US$1 – GY$202.00. Major credits cards and traveller's cheques are generally accepted at many resorts, hotels, gift shops, restaurants and tour operators.
Credit Cards & Debit Cards
Major credits cards and traveller's cheques are accepted by most hotels, restaurants, car rental agencies and tour operators. International VISA, MasterCard, Maestro and Cirrus credit and debit cards can be used to obtain cash from Scotiabank in Branch during banking hours or at ABMs. A similar service is also available at the Guyana Bank for Trade and Industry (GBTI) at their branches and at select ATM locations.
ATM Machines are accessible to persons with ATM Debit Cards. Persons in possession of international CIRRUS credit cards that is Master Card and Visa Card might utilise the ATMs at Scotia Bank for cash advances when in Guyana. Further assistance might be offered at the counter if unable to do so.
Taxes
DEPARTURE TAX There is an exit tax of G$2,500.00 plus a security charge of G$1,500 (being a total of G$4,000). This is paid at the airport at the GRA booth. (The US dollar equivalent for this exit tax may vary with exchange fluctuations.) Please note that this is payable in GY$ or foreign currency.
VALUED ADDED TAX Valued Added Tax (VAT) is charged to a value of 16% on most items save those that are 0-Rated or VAT exempt.
Other
BUSINESS ATTIRE – Men wear long or short sleeved shirts, a Jacket is optional. Shirt and tie attire is common in most offices. Females are expected to dress conservatively.
BANKING HOURS – 08:00 hrs. and 14: 00 hrs. on Monday to Thursday and  08:00hrs and 14: 30hrs on Friday