For myself, old friends Nick Houlgate and John Petchey and, more recently, my brother Ian, February 2013 was not our first trip to the beautiful Country of Guyana.
In fact this was our third visit in as many years and the reason can be found in Guyana's other title, "The Land of Many Waters ". For we are four men from the UK who share a passion for sport fishing and we have travelled all over the World over many years in order to catch and photograph exotic fish species.
This may seem a strange past- time to most people whose usual experience of fish is something which turns up on a plate at meal times but to us the challenge of hunting and catching fish and to record and photograph them before returning them unharmed to the water, holds far more appeal.
In fact, in some of the Countries we have visited in the past there is almost no understanding of the concept of sport fishing and letting fish go to live another day is not only bewildering to the local people but has even caused friction at times. This is an attitude that we can understand from a poor African or Indian Villager trying to feed his family and we always try to explain that our "tourist dollars" are what we offer instead, but sadly fish stocks are in decline all over the world and fish have few "friends"
South America has always been a favourite destination for us but, not being great linguists, we have often experienced isolation and communication difficulties in most Latin American Countries.
This, of course, is not a problem for us in Guyana and the benefits of being able to talk freely and easily with everyone we meet and in our own language, is never under-estimated by us.
However, the real advantage to fishing in Guyana comes about because of the merging of some of the Countries larger river systems with those of other Amazonian rivers during the high waters of the rainy season. This is when the rivers rise and break their banks, flooding into the forests and allowing the fish in to forage on the flooded ground. This is known as the "time of plenty" for the fish but the "time of little" for the fisherman.
The flooding of the Rupununi Savannah enables rivers to connect with their Brazilian neighbours and not only helps the fish to survive and thrive but has also allowed species to migrate as a consequence of which we can find many of the "classic" Amazonian sport fish in Guyana.
Species such as the beautiful and highly colured Lucanani or Peacock Bass, much prized for its aggressive nature in taking our artificial lures, and the Baiara or Vampire Devil Fish with its outlandish fang like bottom teeth. The elusive Arawana, which can be so difficult to catch and even harder to hold due to its incredible speed and manoeuvrability. From the prehistoric looking Haimara, which must rank high on the list of the World ugliest fish, to the mighty Arapaima, the largest scaled fresh water fish of all.
Then there are the many species of cat fish or skin fish, so called because they have no scales, The Lau Lau (largest skin fresh water fish in the world), The Red Tail or Banana fish, the Jundea and the Surabim, Tiger Fish and many more all inhabit these waters. The list of species is almost endless and they can all be found in the Jungle Rivers of Guyana.
Our journey begins in Georgetown with our regular driver Dennis who meets us at the airport and crams us and all our baggage into his (too small) car for the always entertaining drive into town where we always overnight at the lovely old colonial building that is now the Herdmanston Lodge Hotel.
We invariably receive a wonderfully warm welcome from the staff here and Tuana, Edna, Malcolm, Michael and all the others who make our stay comfortable are always pleased to see us again, it's a delight to be back again albeit for one night only.
After a good nights sleep and the re-packing of our equipment into jungle proof dry bags we are off the next day to Ogle airport for the short ninety minute flight to Annai in the Rupununi Savannah where sometimes we will linger a night at the lovely Rock View Lodge as guests of fellow Englishman Colin Edwards.
Colin has created a beautiful Eco Lodge and Gardens here which must be seen and experienced by any visitor to Guyana.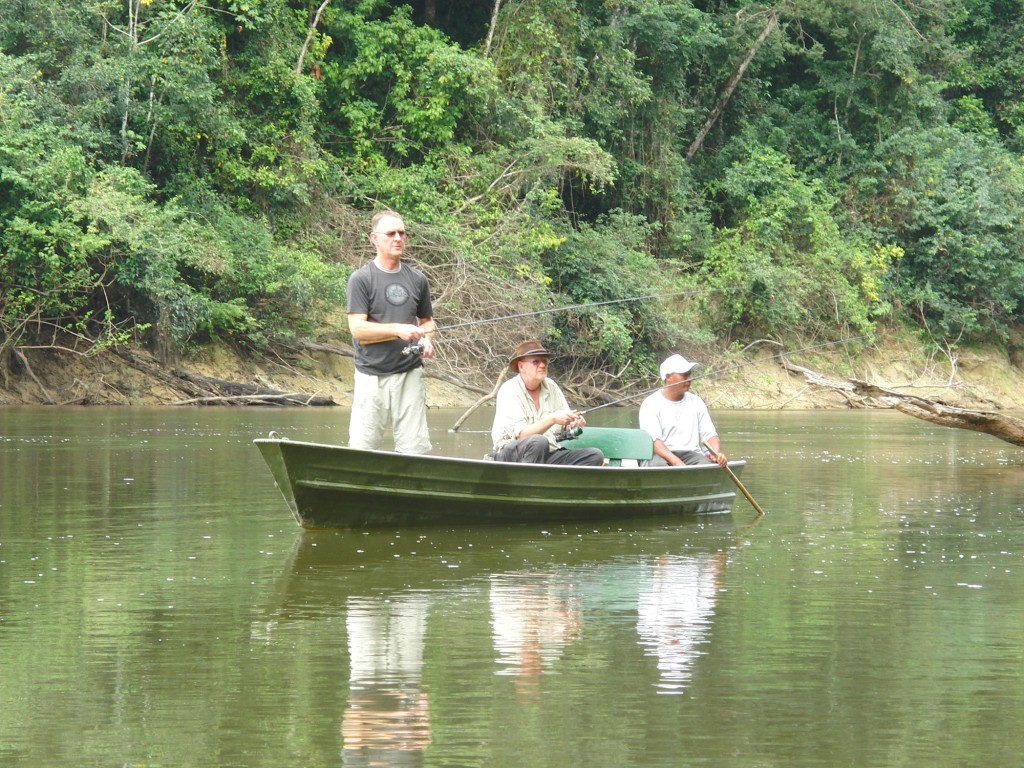 This year however we want to keep moving and we only stay long enough to pick up some packed breakfasts and a bottle of Colins home made fruit juice before loading up the truck which Colins son Jorge will drive to transport us the short distance across the Savannah to the landing at Kwatamang on the Rupununi River.
This is where we meet up with our old friend and guide Ashley Holland from Yupukarri who brings along all the boats, hammocks, tarpaulins and food we will need for two weeks of camping in the jungle.
Also with Ashley are our Amerindian boatmen friends Brian and Telford and Jose who does all the cooking and who, despite all the jokes, has yet to serve up anything truly disagreeable.
Once loaded aboard the boats and underway on the river we travel for a few hours to our first stop which is the eco-lodge at Rewa where we stay for an hour or so and collect a small two man canoe left here by Ashley on his last visit.
Rewa Lodge is also the very last opportunity to enjoy a cold beer before the jungle "proper"
Soon we are off again and entering the mighty Essequibo River and onto the village of Apoteri where we stop to pick up two more Amerindian Guides.
"Uncle" Stanley and his Son in Law Neville bring local knowledge of the channels and routes on this river which are essential to safe travel on the water.
River travel is slow this year, as water levels are very low due to the lack of rain in the wet season, but very soon we are getting rain showers which prompts much joking from the boatmen about us bringing the English weather with us to Guyana.
The river surface is teeming with millions of small yellow butterflies all seeming to be on their way to somewhere else and in quantities that we have never seen previously and before the afternoon is up we have also spotted an Osprey and a pair of giant otters.
Late afternoon we land at out first campsite and very quickly a small river-side clearing becomes a comfortable abode with hammocks slung under tarpaulins and dinner under way.
Very quickly we adjust to camp life and our daily routine sees us rising before dawn for an early session of bait fishing for the cat fish.
Once the sun is up we will return to camp for breakfast, usually porridge with wild honey or eggs with fried fish. Although we are sport fisherman we do, of course, have to eat some of what we catch and fried cat fish for breakfast is delicious.
Fully fuelled we set off again to spend the day casting lures to the many species that will take artificial bait. The Lucanani, the Arawana, the Haimara, the Pacu and of course the ubiquitous Piranha.
The Piranha is everywhere and is usually viewed by us as a nuisance fish but they are feisty and aggressive and can be great sport on a quiet day, just stay away from those teeth. They also provide a reliable protein source for the local people during the rainy season when other species are hard to catch.
Our first full days fishing saw John and Nick catch quite a few Haimara, a species which has eluded us in the past so we're off to a good start, despite the odd rain shower.
Ashley, of course, is never slow to remind us that we are in the Rain Forest again and that's why it's called Rain Forest. The clue is in the title I guess.
The next day I went with Ian and Neville to take the small canoe around one of the large land- locked Ox-Bow lakes which abound in this area.
These lakes are left behind when the water levels recede after the rains and will often trap fish so they can be very good places for the angler to try his luck.
Mine was in on this day and my second cast produced an 8lb tiger cat fish which took my artificial lure and was soon followed over the next hour or two by half a dozen Haimara up to 15lb and two Peacock Bass at 5 and 6 lb respectively.
Ian was not doing quite as well when suddenly the whole situation changed and my lure was engulfed by something much larger. Suddenly I was into a battle of epic proportions.
This was the famed Arapaima and was most certainly not what I was fishing for. These fish have been hunted to near extinction in other Countries but are a protected species in Guyana and thankfully it seems that populations of these fish are now on the rise again here.
But my immediate problem now is that I find myself connected to a fish not much smaller than myself which I must free again as soon as possible. Imagining all along that this large fish will spit out my ridiculously small lure like a grain of rice at any moment I hold on tight but I think this fish knew that I meant it no harm and thankfully it was very soon returned to the water having suffered no more than wounded pride and the inevitable photograph.
Sport fishermen are mostly fairly serious conservationists and I will admit that I was never happier to see a fish swim safely away.
After a few days at this camp it was time to pack up and move the thirty or so miles to our next camp site which took most of the day but by evening we are again well established and comfortable in Anteater Camp, so called by Ashley and the guides because of the arge rock midstream in the river that resembles an Anteater.
Use your imagination lads!
Late afternoon is a good time to freshen up with a bath in the river, always keeping an eye out for the opportunistic black Caiman of course, and is a chance to relax for an hour or two before another Cat fishing session into the evening.
As the light fades and darkness falls we can be found anchored up somewhere on the river, enjoying the cool of the evening after a long hot day in the sun and listening to the sounds of the rain forest at night. This is when the many types of frogs and Cicadas start calling to each other across the water and the macaws will be returning to roost with their characteristic screeching as they fly overhead. They often seem to fly in pairs and I have heard it said that Macaws mate for life.
Howler monkeys too are often heard at night with their distinctive and eerie howling sound which is said by the Amerindians to predict the coming of rain.
Now, to an Englishman who knows a thing or two about rain, this was interesting information.
Sure enough, we found them to be very accurate in their weather forecasting, usually giving us a ten to fifteen minute warning of an imminent downpour, and allowing time to dig out the rain coats. They were certainly more reliable than our own Meteorological Office back in the UK.
The cool evenings relaxing in a boat under a star studded sky of inky blackness is usually a quiet time however. The conversation is almost whispered sometimes as noise will travel far across water at night.
This is a time to learn a little more about Amerindian customs and traditions or perhaps just swap jokes whilst we wait for that elusive bite which at any moment can turn into the fisherman's fight of his life.
There can be few experiences that can transport a person from pure tranquillity, through panic and action to jubilation or disappointment in such a short space of time.
One fish I lost this year in exactly these circumstances was a good sized Lau Lau, a cat fish probably well in excess of 100lbs, although they can get much larger, which I suspect was robbed from me by an excitable Piranha joining in the action and biting cleanly through my 200lb line just as my fish was about to give up and was no more than twenty yards from the boat.
The line was good and we could think of no other explanation other than a "line bite" from a Piranha. And Piranhas, being sight feeders with correspondingly big eyes, are not even meant to be feeding at this time of night.
Anyway nothing is guaranteed until we can see the fish through the lens of a camera and however the session turns out it will always be a good excuse to discuss and dissect the moment in minute detail back at camp, probably over some five year old El Dorado rum in either celebration or commiseration for the poor soul concerned.
And, as we always say, that's fishing and that's why we don't call it catching and it's also why we keep coming back to the Jungle Rivers of Guyana.
All too soon it's time to break camp for the last time, pack away the tackle and head back up river to say our goodbyes and return to Georgetown. But, this year I have prepared one last treat and chartered a small plane to pick us up from the landing strip at Apoteri and take us back to Georgetown via Kaieteur which is, of course, one of the true wonders of the world and, although knowing a great deal about the Falls, is somewhere we have not yet managed to visit.
After a slightly nerve- wracking wait wondering whether the pilot will manage to get through a very small hole in the cloud to land the plane at Apoteri, it eventually arrives and after unloading a delivery of roofing sheets (no point in wasting the outward bound trip from Georgetown after all) we are soon up in the air and leaving the rivers behind us
Kaieteur didn't disappoint and richly deserves all the superlatives heaped upon it. What a magnificent place.
Our journeys into the jungle may not be to everyone's taste but we all love Guyana and wouldn't change a thing. The only thing left to do now is to start planning our next trip.