Wildlife Clubs of the North Rupununi
By: Samantha James
Since 2001 the wildlife festival has been held in Annai, North Rupununi, for three days. And in keeping with the spirit of sharing, clubs from all over Guyana are invited to attend and take part in the celebrations.
A long time ago, in a forest far, far away, researchers worked day and night peering under rocks, water and the earth. They searched high in the canopy and between the leaves, learning about the plants and animals that live in the Iwokrama Rain Forest. This work was so interesting and informative, that neighbouring community members decided to get involved in environmental research in their own backyards, and, 10 years ago, the Wildlife Clubs of the North Rupununi were born.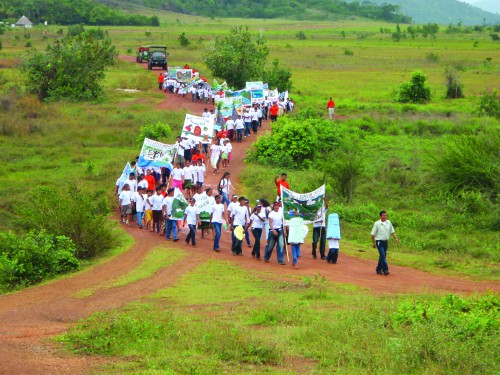 Wildlife or environmental clubs are community initiatives and provide an opportunity to gain firsthand experience of the natural resource management and to develop a strong sense of caring for the environment. Club activities marry traditional or local knowledge with scientific techniques and create a powerful tool for local management of natural resources in a fun and interactive manner. For example, in the North Rupununi, Iwokrama has been supporting wildlife club activities such as bird monitoring and rainfall data collection. As a result, club members are versed in the techniques and technology which can give them a foothold for alternative sustainable livelihoods in activities such as tourism and guiding. Club activities help youth understand the natural environment as well as building self confidence, and setting the stage in developing conservation leaders and understanding of environmental issues such as climate change. As Guyana is at the fore in discussions about REDD+, many club members have been involved and already understand basic concepts related to this issue. This is an essential knowledge base as Guyana is championing ground-breaking steps with the Low Carbon Development Strategy.
Iwokrama visits the wildlife clubs and primary schools in the North Rupununi and provides support to local monitoring initiatives, as well as hosting two centralised meetings a year where three club members from each community gather to meet, discuss, and present solutions to environmental and social issues in the community, which affect youth. But the main event for club members is the annual Wildlife Festival, a celebration of the environment and of Makushi culture.
Since 2001 the wildlife festival has been held in Annai, North Rupununi, for three days. And in keeping with the spirit of sharing, clubs from all over Guyana are invited to attend and take part in the celebrations. The festival provides an opportunity for club members to exchange ideas, talk about club activities, and to celebrate the North Rupununi's rich wildlife and their own culture.
The festival is usually held the weekend before the Easter holidays and over 250 youths between the ages of 8 and 20 showcase their costumes, banners, poetry, art, music, skits and dances, all of which reflect the theme club members created in a February planning meeting. Generally, these activities are about animals, plants, forests, wetlands, and savannahs, but there are also discussions on social issues selected by the youth themselves. Past social issues have included HIV AIDS, domestic violence, and alcohol and drug abuse, and volunteers from organisations including the Guyana Red Cross, Help and Shelter and the Makushi Research Unit provide guidance and advice on these key issues.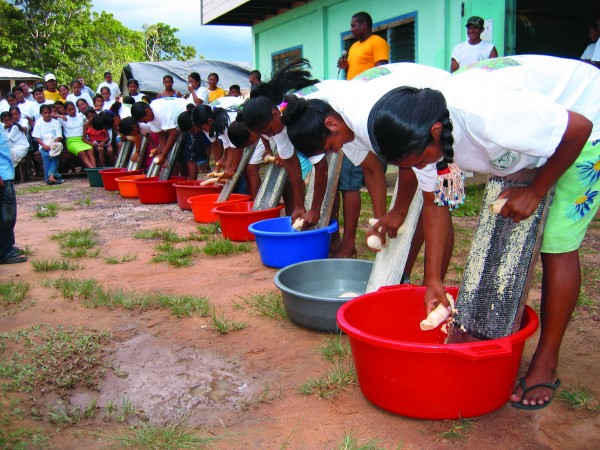 Organisations such as the Chicago Zoological Society, the National Audubon Society, Conservation International Guyana, the WWF Guianas and the EPA Guyana, have supported wildlife clubs through Iwokrama over the years as it has become obvious that local interest in the environment leads to local management of resources. Next year, 2011, will mark the 10th anniversary of the annual Wildlife Festival of the North Rupununi, a huge mark of success and interest in wildlife clubs, as we rely on support from the public and private sectors to host this event. Past club members have grown up are into careers and areas of work which promote conservation, governance and social development in the North Rupununi and we hope to see them and the clubs continuing to flourish, ensuring that our wildlife stay wild and our environment stays healthy.
If you will be travelling to the Rupununi the weekend before the Rodeo, why not stop in Annai and take part in the 10th annual wildlife festival? There will be art and poetry competitions, an environmental quiz, or you can try your hand in the traditional skills competitions of cotton spinning, cassava grating, fire lighting.
If you are interested in joining a wildlife club in your area, contact the Environmental Protection Agency, to find out where the nearest club exists or for guidelines and national registration for clubs.