Growing Mangroves
Protecting the Natural Habitat from the Sea
By: Dave Martins
In a time of rising sea levels threatening coastal communities, Guyana has embarked on a wide-ranging programme of restoration and preservation of its traditional mangrove forests as a barrier to the invading sea. Eventually, it will be man-made seawalls and nature's mangrove combining to repel the Atlantic waves that threaten below-sea-level Guyana.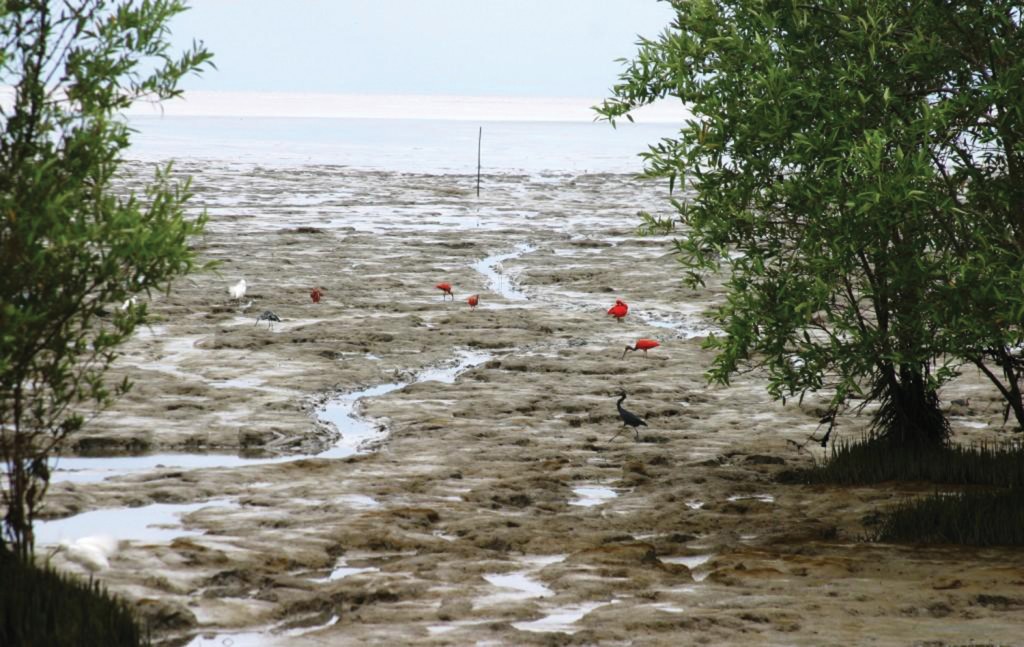 Dubbed the Guyana Mangrove Restoration Project, the programme is jointly funded by the Government of Guyana and the European Union and is in keeping with the Low Carbon Development Strategy pioneered by Guyanese President Bharrat Jagdeo which has committed to the country's development via the low carbon pathway.
Indigenous to Guyana's rivers, and its coastline facing the Atlantic Ocean, this natural sea barrier has been depleted in recent  years by changing sea conditions and by degradation by man. Now, there is a concerted effort to replace the depleted forests.  From a purely scientific standpoint, mangrove coastland forests  sequester 10 times as much carbon than  the better known tropical hardwood forests that Guyana is known for.
Much of Guyana's northern coastline is rimmed with concrete barriers to the sea, but mangrove can contribute to this protection process at much less cost (1 meter of concrete wall =  US$3,000. 1 meter of mangrove = US$15.)
Begun in March 2010, the project seeks to achieve its aim of "natural sea defence" through a number of thrusts which include the protection and management  of existing mangrove, the meticulous and tedious  replanting of mangrove seedlings on the Atlantic coastline, a multi-media education outreach to increase public understanding and support for mangrove protection and research.
The Mangrove Action Committee (MAC) which is comprised of members from all the relevant national agencies is administering the project under the National Agriculture Research Institute (NARI) which is an arm of the Ministry of Agriculture.  The project has already generated public attention through radio and television spots, newspaper articles and highly visible billboards carrying the message, "Mangroves protect us from the sea – let us protect them."
The laborious physical work of planting mangrove in Guyana's coastal mudflats is well under way.  As Minister of Agriculture Robert Persaud noted, "As of October 2010, we have already successfully planted 40,000  mangrove seedlings in two pilot sites located in the most vulnerable areas. As a clear demonstration of our commitment to mangrove preservation, the Government has recently passed legislation, under the Forest Act, to make all mangroves in Guyana a protected species."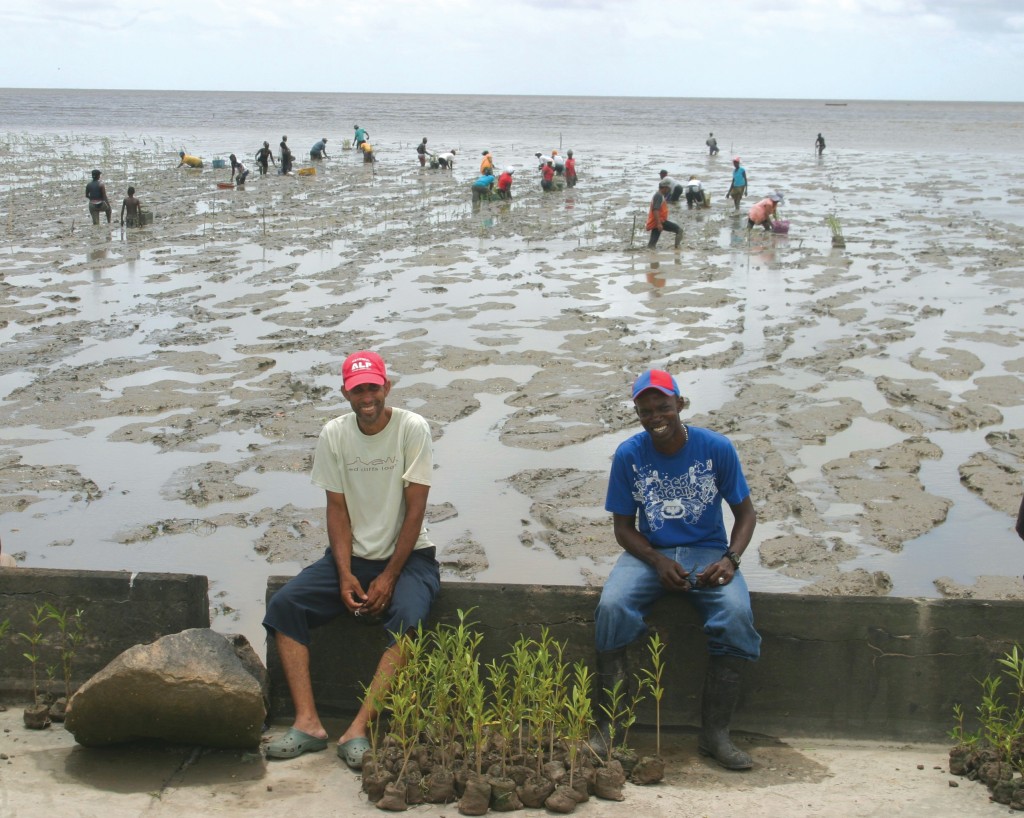 Although planted in mudflats where shifting tides are at play, the young plants take hold quickly. NARI's Executive Director Dr. Oudho Homenauth who visited the Hope Beach site one month after the planting, said, "I was struck by how well the seedlings had withstood the very high tides and extreme wave energy they had been exposed to. For such young plants, they proved to be very resilient."
Chairperson of the MAC, Annette Arjoon-Martins, pointed out that mangrove's ability to create land by trapping sea-borne sediment is of value to a low-lying country such as Guyana. "Also, for visitors to the country, our mangrove forests are prime areas for bird-watching – such as the Scarlet Ibises, Snowy Egrets, Roseate Spoonbills and numerous migratory species. Additionally, in areas such as Fort Wellington, to sample the marvelous black mangrove honey produced by bees foraging in the forest is a treat."
The MAC Chairperson is also inviting visitors to Guyana to participate in the mangrove replanting. "You will see our wildlife up close, contribute to our sea defence, and reduce your carbon footprint at the same time. Contact us at macsecretariat@gmail.com and we'll get you going."