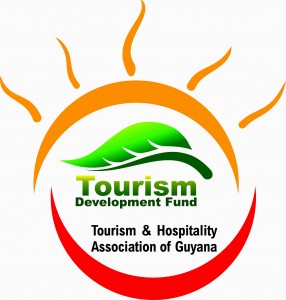 The Tourism Development Fund (TDF) has been created to allow The Tourism & Hospitality Association of Guyana (THAG) to make a more impactful contribution to the actions and decisions which affect the private sector tourism industry and our membership; to bring something more tangible to the "table"; to be in a position of greater independence; to have greater control of our destiny
HOW IT WORKS:
By collecting a small voluntary contribution from our visitors, THAG will be able to implement and finance projects specific to ensuring that Guyana is enjoyable for visitors and residents alike.
Hotel, Lodge and Resort guests will be asked to proudly be part of this exciting initiative and donate US$1 for each night of their stay in Guyana which will go entirely towards our Tourism Development Fund. A letter will be provided to guest in their room, and or at the front desk, which clearly states that this is a contribution and, if they would prefer, will be removed from their final bill.
Proceeds from the fund will be used on three areas that directly impact the industry:
Marketing Guyana both regionally and internationally is required if we are to compete on the international stage. While the fund will not come close to raising the amount of marketing dollars required to fund a comprehensive national marketing strategy, it will allow us to target specific marketing efforts that will benefit the members. One such initiative is the Booking Engine that allows real time reservations and confirmations on ExploreGuyana.org. Other initiatives may include "Sales Blitzes" in neighboring countries or targeted advertising in specialist publications.
The development and preservation of our tourism product is critical to the future of the industry. The fund will contribute to the preservation and maintenance of sites that are part of our heritage and history.The fund will also allow THAG to make small grants for small/micro tourism businesses that could benefit from some capital injection.
To strengthen Guyana's presence in an ever more competitive international tourism marketplace, the fund will also support training initiatives for our young school leavers, and re-training to achieve higher standards in the industry with the objective of reinforcing a culture in which tourism is the career of choice. There also will be strong focus on education and hands-on training initiatives for our young people to give them a better chance of finding employment in our industry.
From the funds collected, 60% will be spent on marketing, 20% on product development and 20% on capacity building and training.
The TDF will be managed by a Special Committee comprising representatives from the Public and Private Sectors who ensure that projects undertaken by the fund continue to have a strong marketing education, environmental and developmental impact. THAG will use its existing resources to administer the projects identified for funding so as to ensure that ALL contributions go directly to towards the projects.
Committee Chairman
Dr. Yesu Persaud
Executive Chairman of Demerara Distillers Limited
Chairman of Demerara Bank Limited
Founder of Institute of Private Enterprise Development (IPED)
Committee Members
Indranauth Haralsigh
Director Guyana Tourism Authority
Shaun McGrath
President, Tourism and Hospitality Association of Guyana
Mitra Ramkumar
Treasurer, Tourism and Hospitality Association of Guyana
Properties that have currently contribute to the fund are as follows:
Cara Lodge Hotel
Grand Coastal Hotel
Herdmanston Lodge
Roraima Duke Lodge
Roraima Residence Inn